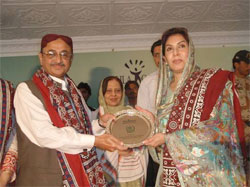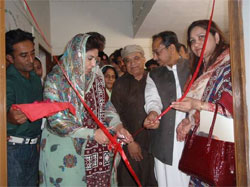 NCHD has launched its literacy programs by opening Adult Literacy Centers (ALCs) in 134 districts of Pakistan including FATA, Gilgit Baltistan and AJK. Honorable Prime Minister of Pakistan Syed Yousaf Raza Gillani marked the year 2010 as the "Literacy Year" by inaugurating a literacy center in Peshawar.
Recently, Speaker National Assembly Ms. Fehmida Mirza inaugurated the ALCs of NCHD in Badin. The event was attended by more than 200 people including various government officials, stakeholders, and local community. Director General NCHD Mr. Zulfiqar Ahmad at this occasion briefed the gathering about NCHD's programs and achievements.
Speaking at the occasion, Ms. Fehmida Mirza appreciated NCHD's literacy program and called it an ideal program for those who couldn't continue their education due to any reason. She said, "The Adult Literacy Centers which NCHD is opening, are providing a great opportunity to adults of becoming literates. So, both men and women should get enrollment in these centers for the betterment of their future."
Then the newly inducted District General Managers of Sindh province received their training certificates by Ms. Fehmida Mirza. In the end, the Speaker participated in the ribbon cutting ceremony held at an adult literacy centers and met with the adult learners.