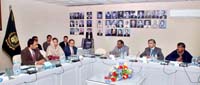 ISLAMABAD, Nov 24 (APP): Minister for Information and Broadcasting, Qamar Zaman Kaira, Tuesday said literacy is a key instrument for social, economic and political change and in this regard efforts were being made to ensure better and quality education to citizens. He was talking to a delegation of National Commission for Human Development (NCHD) headed by its Chairperson, Nafisa Shah, which called on the Minister here.
Qamar Zaman Kaira said employment generation is priority of present government and at the same time special focus was also being given on human development.
He said the human development area is of key importance, especially to deal with issues of provision of clean drinking water, environment and education.
Appreciating the services of NCHD, he said the achievements of the Commission should be projected in a comprehensive manner and in this regard he offered support and cooperation of Ministry of Information and Broadcasting.
The Chairperson of NCHD briefed the Minister on the Commission's different initiatives, especially universal primary education and adult literacy programmes.