WASHINGTON, D.C., September 24, 2008 — The Pakistani American Leadership Center (PAL-C) met with Pentagon officials to discuss U.S. military action in Pakistan. Representing PAL-C, from left to right was PAL-C Executive Director Taha Gaya, National Director Dr. Maqsood Chaudhry, Founding Director Mossadaq Chughtai, Founding Director Pervaiz Lodhie and Founding Director Dr. Rafiq Rahman.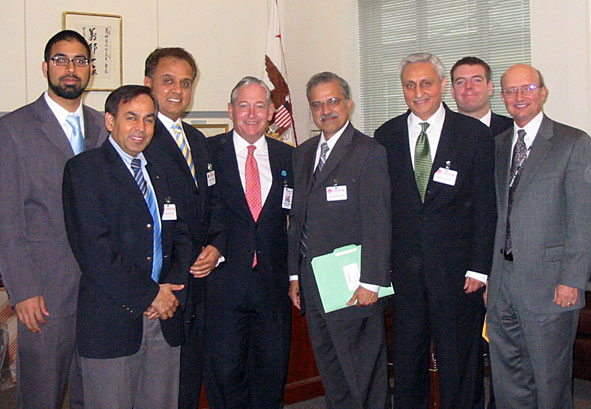 Representing the Office of the Secretary of Defense was, from left to right: Principal Deputy Assistant Secretary for Asian and Pacific Security Affairs Mitchell Shivers, Country Director for Pakistan, David Smith, and Country Director for Pakistan, Dan Folliard.
Deputy Assistant Secretary Mitchell Shivers opened the meeting by expressing condolences over the Marriott bombing in Islamabad and by noting that just as 9/11 took the lives of Pentagon personnel in the very building in which we were meeting, the Marriott bombing likewise reminded us that the fight against terrorism is one that both the U.S. and Pakistan share.
The PAL-C Directors acknowledged the shared struggle against terrorism and emphasized that as Americans — and particularly as Pakistani-Americans — we feel that shared responsibility keenly. The Directors also mentioned that the Pakistani-American community and PAL-C in particular, could serve as a resource to the Pentagon in understanding the challenges posed by the affected areas in Pakistan.
The Directors then presented Deputy Assistant Secretary Shivers with a Letter of Concern raising serious questions about the way in which the War on Terror was being conducted in Pakistan with particular attention given to the increasingly counterproductive escalation of unilateral U.S. military action within Pakistan.
The Directors highlighted that many of the U.S. strikes and incursions, while failing to successfully eliminate targeted high-value militants, resulted in unacceptably high levels of civilian casualties and risked creating a popular insurgency among the wider tribal population. They reiterated the need for a greater emphasis on soft power including economic aid and development, diplomacy, and a reduced emphasis on hard power or direct military force. The Directors also noted that the U.S. should take great care to avoid a counterproductive escalation in tension with the Pakistani armed forces themselves, noting that crucial supply lines to NATO troops in Afghanistan pass through Pakistan at Pakistan's discretion.
Finally, the Directors noted that although cross-border attacks from militants in Pakistan targeted NATO troops in Afghanistan, NATO has refused to join the U.S. in any kind of military strike or incursion across the border into Pakistan. In fact, the French Foreign Ministry went as far as to say, "Not only are [the strikes] creating human tragedies but also situations that have counterproductive effects on the political dynamics that we would like to see, and that means a partnership between Afghanistan, Pakistan and the international community."