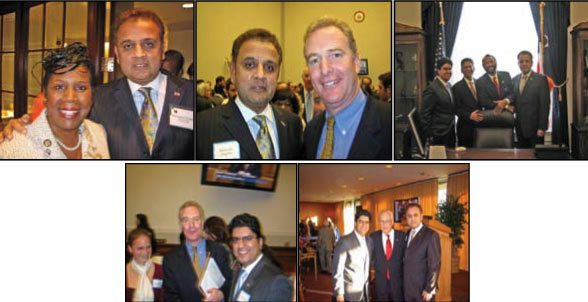 Pictures above: PAL-C officials with US Senators and Congressmen whom
they met in Washington, DC
Washington, DC: Members of the Pakistani American Leadership Center (PAL-C) met several US Congressmen to congratulate them and also held discussions of mutual interests about Pakistan, US- Pakistan relations and the role of the thriving Pakistani-American community.
Some of the Congressmen also discussed issues such as bilateral trade between Pakistan and the USA, improving and modernizing education in Pakistan, and defense cooperation between the two allies.
PAL-C informed the members of the Congress about its mission, its strength, its future goals and its efforts already underway. PAL-C also discussed its desire to place talented Pakistani American students and young professionals as interns and staff members in respected offices on Capitol Hill. Finally, members of PAL-C urged the Congressmen to remain committed to the Congressional Pakistan Caucus and in the case of new members of Congress, urged them to become members of the Caucus.
PAL-C was represented by Executive Director Mr. Ali Chaudhry and National Director Mr. Mossadaq Chughtai.
Cordial meetings were held with the offices of the following members of the Pakistan Caucus:
1. Congresswoman Sheila Jackson-Lee (D-TX) - Co-Chair of the Caucus
2. Congressman Bill Pascrell (D-NJ)
3. Congressman Chris Van Hollen (D-MD)
4. Congressman Al Green (R-TX)
5. Congressman Rick Renzi (R-AZ)
6. Congressman G.K. Butterfield (D-NC)
PAL-C members also met with the teams of the following Congressmen and urged them to join the Pakistan Caucus:
1. Congressman David Scott (D-GA)
2. Congresswoman Allyson Schwartz (D-PA)
The leadership of PAL-C also met with the teams of several new Congressmen. PAL-C explained its objectives to the freshman members of Congress and discussed ways of working together for the betterment of the community. The offices of the following new Congressmen were briefed:
1. Congressman Nick Lampson (D-TX)
2. Congressman John Sarbanes (D-MD)
3. Congressman Keith Ellison (D-MN)
All in all, PAL-C established a working relationship with new members of Congress and re-invigorated ties with committed members of the Pakistan Caucus. The Pakistani American Leadership Center vows to continue working with the US Congress and the Pakistani American community to facilitate communication between them. "As we enter 2007, PAL-C remains committed to empowering, educating and mobilizing the Pakistani Americans community to take a more active role in the American political arena," says a PAL-C press release.