"Information technology combined with education in science and technology, is a powerful resource for a developing nation," said Pervaiz Lodhie, president of Ledtronics, Inc. In Torrance, Calif.
Lodhie, who just returned from Pakistan, his birth country, is concerned about advancing the country's welfare by contributing to education.
During his stay, he visited Karachi High School, a private co-educational institute with approximately 650 students. The school has a diverse range of subjects, ranging from Physics to Economics.
Starting at age five, students are introduced to computers.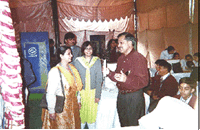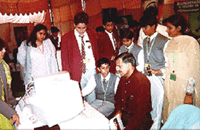 "Karachi High School was one of the first few schools to offer computer education to its students, and also organized the very first country- wide seminar on computer education in schools", Lodhie said. This gives students a distinct advantage in learning to master math and science skills that will bring financial resources to both the individuals and the country.

Lodhie discovered that the school was attempting to provide computer education to young girls and women from low income families and desperately needed more computers to meet this new challenge, he immediately donated 10 computers. He's presently calling upon other business associates to join him in donating another 15-20 computers.

"One would hope that the government of Pakistan continues to give science and technology a high priority. The private sector can play a significant role in supporting the educational community, whose limited resources can not meet the growth demands," he said.