While US Secretary of State Hillary Clinton's visit to Islamabad highlighted the often bumpy relationship between the United States and Pakistan, the BBC's Diplomatic correspondent Jonathan Marcus reports on the struggle between the Indian and Pakistani lobbies for influence in Washington.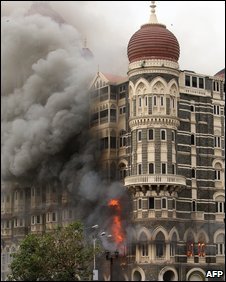 The 2008 Mumbai terror attacks
divided the US-based lobby groups
I have come to a downtown Indian restaurant in Washington DC to try to gauge the balance of forces in a growing battle for influence on Capitol Hill.
Across the table is Sanjay Puri, the chairman of US Inpac - the US India Political Action Committee.
Sanjay Puri says that Inpac's goal is to give a political voice to some 2.7m Indian-Americans.
"This is not about representing India's interests," he insisted.
"We look at things from an American perspective.
"It is in America's interests," he went on, "to have strong trade ties with India.
"It is important for us to have a strategic relationship with India, which happens to be the democracy in a region where we need a stable partner."
Across town, in a small office building not far from the Senate, I visited Taha Gaya, the executive director of Pal-C - the Pakistani American Leadership Centre.
'Not fighting'
Taha is a law graduate and has worked as a congressional staffer on Capitol Hill.
Describing himself as a second-generation Pakistani-American, he seeks to lobby on behalf of his community and insists that he is not fighting the Indian-American lobby.
"There is no doubt that India is the growing economic power in the region," he told me - but he said that there was also "no reason why Pakistan should not benefit from the economic growth of its neighbour next door".
Taha Gaya explained that on some issues the two lobbies had sometimes worked together.
But the Mumbai attacks last year changed all that.
"When Mumbai happened," he explained, "we saw a resurgence of participation from the older generation of Indian-Americans - those who had grown up in India" - who, he claimed, reverted to what he described as "the old more negative dynamic".
Inevitably then the two lobbies seem destined to be on different sides of the barricades.
The recent US foreign aid bill for Pakistan is a good example. Pro-India groups lobbied hard for all sorts of conditions to be inserted into the bill.
Sanjay Puri was part of this campaign. This was not about supporting India's interests, he insists, and neither was it motivated by hostility towards Pakistan.
"Our activities are not aimed against the people of Pakistan or against the State of Pakistan," he told me.
"It is about accountability and transparency. We are very active in making sure that when US taxpayers' money is being spent, especially in these difficult economic times, there has to be a level of transparency."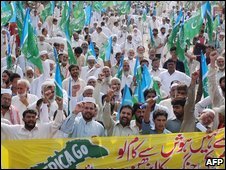 Protesters in Pakistan were angry US
foreign aid had conditions attached
The Indian-American community, he told me, "is supportive of aid that relates to democracy in Pakistan, education, reforms progress on women's rights and so on".
"But if Pakistan says that it needs F16 jets to hunt down terrorists," he adds, "I don't think the average American is going to buy that."
For a referee in this struggle, I turned to Professor Walter Andersen, director of the South Asia programme at the School of Advanced International Studies at Johns Hopkins University.
A former diplomat, he has watched the development of these US-based lobbying groups with great interest.
The galvanising event he told me, was the struggle over the US-India nuclear deal which came to a head in 2008.
The US wanted to help India with civil nuclear technology but was prevented from doing so by legislation banning the export of fuel or know-how to any country that had not signed the Nuclear Non-Proliferation Treaty. So the Bush administration sought to make an exception for India.
"The Bush team very smartly contacted the India lobby," Professor Andersen told me, "and worked very closely with it."
The US Chamber of Commerce and its India section also got involved because of the prospect of business.
"So you had American business interests, the administration and the Indian-American lobby all very actively pushing for this. There was a lot of opposition. In some ways it went down to the wire," he noted, "but their persistent effort paid off."
The battle may be joined on Capitol Hill but Professor Andersen notes that it is an increasingly unequal struggle.
"As Americans look at India and Pakistan," he told me, "the gap is growing in terms of positive and negative; much more positive on the Indian side and much more negative on the Pakistan side."
"The negativity on the Pakistan side," he explains, "is related to the violence there and the sense that there has been double-dealing by the Pakistani government. On the one hand they say they are with us and then maybe parts of the military really do support some of these jihadi groups for Pakistani foreign policy purposes."
Mumbai attacks
Perceptions of India, he explains are very different.
It is viewed as a vibrant democracy with a dynamic economy. And of course India is seen by many Americans as confronting a similar terrorist threat to that faced by the United States.
Professor Andersen also emphasises the impact of the Mumbai attacks.
"These had almost three days of continuous coverage on US television," he told me. "There was American interest in what happened; there was American sympathy and Pakistan, by contrast, came off quite badly."
All in all, the growing strength of the India lobby is a factor complicating the Obama administration's approach to the region.
"I suspect that that the Obama administration was not at all happy with the conditionalities that were written into the appropriations bill for Pakistan," Professor Andersen said.
"The pro-India groups were explicit that they wanted such conditionalities and they had friends in the Senate and the Congress who went along."